Our head coaches are seasoned coaches who are former players who currently coaching at the college or high school level.  We have two levels of assistants.  The first level are those assistant coaches who are current or former high school coaches (head or assistants) or former college players.  The second level are assistant coaches who are current college players or recently graduated high school seniors who are former Wolfpack players.  All of our coaches go through a background check and an interview process prior to joining our coaching staff. 
Assistant Coaching Mentorship Program:  This program has two parts to it, the first is our high school players volunteer program.  This program is designed to take a small number of current Wolfpack players and have them volunteer as assistant coaches through out the year.  The second part of the program covers our summer season.  This program is designed to work with our college players and recently graduated senior assistant coaches.  We set them up with a team and head coach who works with them to develop their coaching and leadership skills.  Additionally, a few of our college players are receiving internship credit with their colleges as part of their schools coaching curriculum. 
We are very proud of our coaches, the level of their experience and their commitment to not only the sport, but to our club and also our players. If your are interested in becoming a Wolfpack Lacrosse Coach Please contact Tom Balish at tom.balish@wolfpacklacrosseclub.com  
Maroon Team
Head Coach/Co-Founder
Tom Balish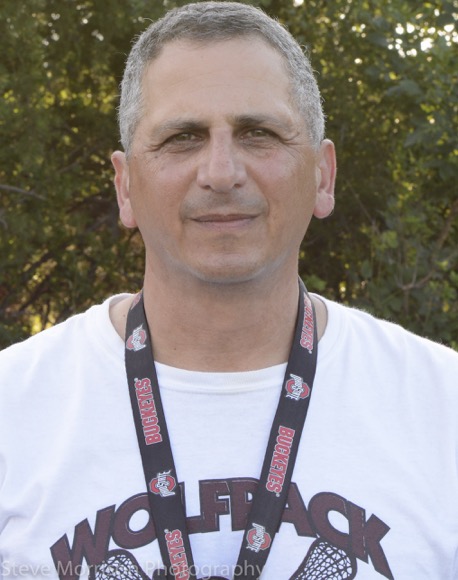 A native of Summit, NJ is the Co-founder of Wolfpack Lacrosse Club. Coach Balish is currently the Head Coach at Forest Park High School, Woodbridge, VA. Coach Balish was named "Virginia's 6A Coach of the Year" for Girls Lacrosse in 2015.  As the head coach of the Lady Bruins Coach Balish's team has won the conference twice, were 6A South Region Champions and played in the State Semi-Finals in 2015.   
As an assistant coach (defensive coordinator) at Forest Park High School, the boys team goals against average was 5 and they won the regular season district championship for the first time in school history. As an assistant with the Forest Park girls team they won the district and qualified for Virginia's first state tournament. He has coached numerous district, regionally, and state recognized players, Academic All-Americans, as well as current and past collegiate players at D I, D II, and D III.

Previously, he was the assistant head coach at Pope John Paul the Great High School, Dumfries, VA where he assisted in starting up the program during their first year of girls lacrosse. Tom has over a decade of coaching experience with both with boys and girls lacrosse .  He assisted in forming two booster clubs (Falcon Ice Hockey and Forest Park Boys Lacrosse). He is US Lacrosse Level II Certified. He is a certified High School Boys Lacrosse and Girls Field Hockey Official.  He is a graduate of Ohio Wesleyan University, and holds a master degrees from Webster University and National War College.

Assistant Coach




Claire Palermo-Re





Claire is a 2013 graduate of Forest Park High School. During her high school career she reached the top of the stat book and was always a reliable player. Claire was a two time 1st team all-district, a two time 1st team all-region, an all-area and all-met honorable mention.  Claire currently plays at Bridgewater College where she leads her team in goals and points this season.  




Assistant Coach




Sidney "Jackie" Gleason





Sidney was a stand-out lacrosse player for the Lady Bruins where is she was all conference and all-region player her senior year.  She was a captain of the team and was fourth in overall scoring for the Lady Bruins in 2014.  Currently, Sidney is attending Lynchburg College where she is playing lacrosse.  





Assistant Coach


Molly Chester





Molly is a returning Wolfpack coach, who has been playing lacrosse for 14 years.  She is a 4 year Varsity Player from Forest Park, playing both Goalie and Defense.  She is currently a Junior at Newberry College, and helps coach the Maroon team during the summer.  In her free time she loves to play with her dogs.



White Team
Head Coach




Shantelle Valdez



Bio Coming
Assistant Coach
Cryss Kennedy



Cryss has been playing lacrosse since 2005. She played at Potomac Senior High School for 3 years playing every position but goalie. She was a captain and earned multiple awards including 2nd team all- district and MVP. She also participated in various clinics, camps, and travel teams including Cobra. Cryss attended Virginia Commonwealth University and played for their intramural girl's lacrosse team. She is currently coaching girls lacrosse at Potomac Senior High School as the Head Coach of JV.





Assistant Coach


Kylee Shoop





Kylee is a 2015 graduate of Forest Park High School.   During her four year stint as a Lady Bruin Kylee she achieved many accolades, most recognizable was being named Cardinal District Player of the year and All Region Player of the Year her senior year.  She led the team in goals and draw controls.  She was the teams MVP as well as the Female athlete of the year for Forest park High School.   Kylee currently attends Newberry College where she is a starting midfielder. 



Assistant Coach
Marin Lerch



Marie is a College player who is a WP coach, currently playing at Virginia Wesleyan.  She has been playing lacrosse for 7 years,  for Wolfpack and Brentsville HS.  Her Junior and Senior year, she received Second team All-Conference at Brentsville District High School.  She was also an Academic All American in 2015.  
 Gray Team

Head Coach
Alexa Recker




Alexa has been playing lacrosse since 2003. She played for Prince William county for 2 years and Forest Park High School for 4 playing positions ranging from center, midi and attack. She was a captain and earned multiple awards including 2nd team all- district. She also played lacrosse for Valley Forge Military College and United States Military Academy at West Point. After  college she played on the Women's Washington DC Lacrosse Club. Alexa also hosts introductory lacrosse clinics for local Girl Scout troops. She is currently coaching girls lacrosse at Forest Park High School as an assistant coach. 

Assistant Coach
Brianna Bacon



Brianna has been playing lacrosse for 6 years.  She played for Varsity all 4 years at Garfield, and is currently playing at Wesley College in DE.  She is a 3 year Wolfpack player, playing on the Gray, White, and Maroon teams.  In her free time she enjoy's playing lacrosse in her backyard and going to the gym with Coach Jenna.





Assistant Coach 
Kalyn Shoop

Bio Coming
Assistant Coach
Ciara Blackston

Bio Coming
Assistant Coach
Miran

Bio Coming
Goalie Coaches 


Chris Drago
Chris Drago

Chris played goalie at Osbourn Park High School from 2004-2007 and was a three year varsity letter winner and captain his junior and senior year. He received multiple all-district and all-region recognition. He then went on to play at Lynchburg College. He was an assistant coach for the OP Boys Lacrosse team from 2010-2011.


He is currently the assistant coach/goalie coach for the Forest Park Girls Lacrosse team.



Elizabeth Huerta

Bio Coming
Wolves Coaches Den
Roxi Marquez
Roxi started her lacrosse career at Potomac Senior High School. She was a 4 year varsity player. There she was awarded 1st and 2nd team all district awards as well as MVP her senior year. She participated in the VA Commonwealth games as well as the US Lacrosse HS All Star Game. After HS, she attended Old Dominion University where she was a member of the women's lacrosse team. Upon returning to Northern Virginia, she began coaching at Potomac Senior High School where she is currently coaching the varsity team. Roxi is also a member of a post-collegiate lacrosse team based in the DC area.
Jose Olivero
Born in the Dominican Republic, and grew up in Long Island (Brentwood NY). Coach Olivero started playing lacrosse in the 8th grade. He played goalie at West Point for 3 years and was a midfielder during his sophomore year. He earned All-American recognition the 3 years he played Goalie,highlighted by 2nd team All American selection his junior year. He played in the North-South All-star game in 1978. He was also an All American soccer player in high school and at West Point. He earned 8 varsity letters while attending West Point. he was both cpatain of the lacrosse and soccer teams his senior year. He also played with the Fellowship of Christian Athlete (FCA) Grand Masters team in the 2006 World Championship tournament (Toronto Canada). In 2008 he was inducted into West Point Athletic Hall of Fame class in 2008, along with legendary basketball coach Bob Knight. Has coached in the West Point lacrosse summer camps the last 2 years and is a Boys lacrosse high school official in northern Virginia for the past 10 years.